The Anechoic Chamber solves the issue of testing, measuring and verifying the properties of a wide range in products of technical practice. It is mainly used for scientific and research activities in the field of measuring the parameters of antennas, antenna arrays and RF circuits.
We are now offering our customers the option of measuring antenna properties in our anechoic chamber, which was designed and built for us on a turnkey basis by Albatross Projects.
If you are interested in measurements, please contact our sales department at sales@eldis.cz, we will be glad to prepare an offer for you.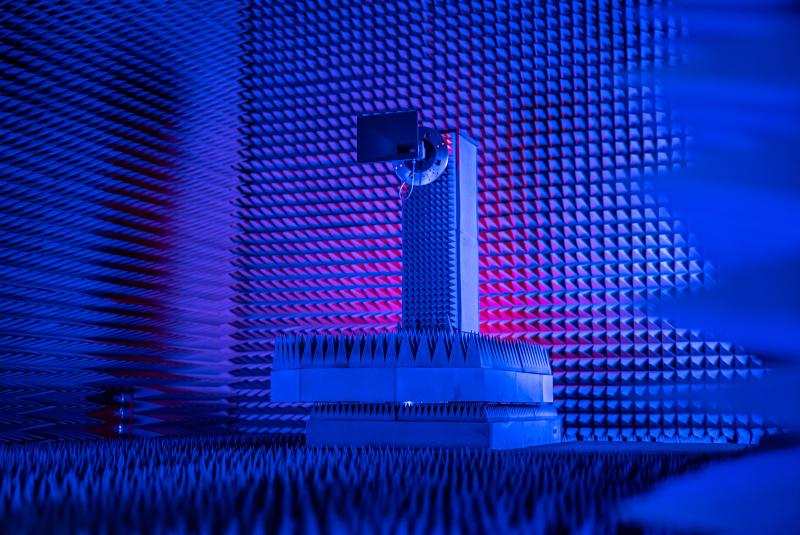 Measuring options
Far-field measurement (cuts or 3D)
Near-fielld measurement with FIAFTA transformation to far-field (3D)
Gain measurement in swept frequency band
Setting and checking the ellipticity
Setting and measuring differential phase and amplitude
Setting and optimalization PSV and return loss
Main Technical Parameters
Spherical positioning system
Frequency range of measurement - 1 GHz – 18 GHz
Test antenna - cross-polarized Vivaldi test antenna R&S TC-TA18
Inner dimensions with absorbers - length: 9,1 m, width: 4,3 m, height: 3,9 m
Shielding effectivness - SE >= 100dB @ 1GHz – 18 GHz
Antenna distance (from the flange on the positioner to test antenna) - min: 180 cm, max: 600 cm
Load capacity of the positioning system (weight of the antenna under test) - max 150 kg (with a shift of the center of mass from the positioner flange by max. 90 cm)
Chamber components
Rohde&Schwarz - ZNA26 vector analyzer
Maturo - positioning system
A set of calibrated normal antennas for measuring gain
Rohde&Schwarz - AMS32 measuring system
Download